Our Emergency First Aid for Reptiles provides an introductory overview of how to manage common medical emergencies when they happen to reptilian species such as lizards, snakes, etc. This does not include any advanced veterinary medical content regulated by law and the state veterinary practice act.
Topics include: Transporting and restraining sick and/or injured reptiles, what types of first aid supplies you should have and how to use them , how to perform triage, physical assessments including obtaining vital signs, traumatic injuries such as wounds, thermoregulatory emergencies and more. The important supplies in the reptile first aid kit and how to use them, severe bleeding, burns, eye injuries as well as a number of other injuries that can happen to reptiles.
Course expires 30 days from date of purchase
Begin your course by clicking on the links below. The course flows in order so you must complete the previous section before you can move to the next section.  At the end of each topic you must click on the green button in the bottom right corner of the page. This will verify that you have completed that topic and give you credit in the grade book. You can monitor your progress in the course by the progress bar at the top of this page and also in the side bar. You can log in and out as many times as you like but must complete the course in 60 days from date of purchase.
Final Exam
 This course has a final exam at the end of the module. These assessment has unlimited attempts however you must pass  with 100% to receive your certificate. 
Merck Veterinary Manual
You will be provided the link to access the Merck Veterinary Manual for Management and Husbandry for Reptiles.  This manual will provide additional information that you can use as you complete your lessons in the course.  The link to access the manual can be found in the Course Introduction section. This manual is web hosted and can only be viewed online. It cannot be downloaded nor printed. 
Click Here to Access Your Membership to the Animal Emergency Resource Center
Retail Items
Pet Emergency Academy has a collection of pet first aid and emergency supplies in offered for sale in its online store. Please click the link below to shop for high quality supplies for your pet. 
_____________________________________________________
For technical support with your course, please contact 844-PET-CPR9 or support@petemergencyacademy.com
Please provide your name, order #, name of course you are enrolled in and a detailed description about the problem you are having. Our staff will reply within 48 hours.
This course in no way will teach how to administer veterinary care and is an introductory emergency first aid course for horse owners and equine professionals to learn how to manage a medical emergency until veterinary care can be ascertained.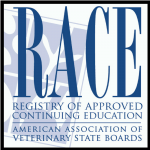 "This program 20-769747 is approved by the AAVSB RACE to offer a total of 0.00 CE Credits (0.00 max) being available to any one veterinarian: and/or 1.00 Veterinary Technician CE Credits (1.00 max). This RACE approval is for the subject matter categories of: Category Three: Non-Scientific-Practice Management/Professional Development using the delivery method of Non-Interactive-Distance. This approval is valid in jurisdictions which recognize AAVSB RACE; however, participants are responsible for ascertaining each board's CE requirements. RACE does not "accredit" or "endorse" or "certify" any program or person, nor does RACE approval validate the content of the program." 
1 Professional CEUs to licensed vets (click here to read our continuing education policy for veterinary professionals)